Posted on February 12, 2017 by
david_pritchett
Benfica and Borussia Dortmund clash at the Estádio da Luz on Tuesday night, in the first leg of their eagerly anticipated Champions League round of 16 tie. Ahead of the game, we spoke to Stefan Buczko, editor-in-chief and host of The Yellow Wall Podcast, to get the latest on Benfica's formidable opponents.
How has Dortmund's style changed under Thomas Tuchel relative to Jürgen Klopp? What tactics does he employ?
Borussia Dortmund are still a team that exercises Gegenpressing. However, Thomas Tuchel has implemented a possession-based style, and overall has made this team tactically more flexible to tailor the tactical approach toward the opposition. Tuchel has applied 4-1-4-1, 4-3-3 and 3-1-4-2 / 5-3-2 systems this season, generally with both full-backs pushing up high to create width, and a slow build-up phase with diagonal passes across the field to get the ball forward. In general, the football has become less intense, but therefore more controlled, although that can vary from game to game.
Julian Weigl [pictured below] usually acts as a lone holding midfielder, but has received assistance in high-profile matches, with either two players beside him in a 4-3-3, or one of the central midfielders (usually two out of Raphaël Guerreiro, Ousmane Dembélé, Gonzalo Castro or Mario Götze) dropping deeper.
What is the greatest strength and the greatest weakness of the current Dortmund team?
The greatest strength has to be the flexibility of this Dortmund side, but to give a less vague answer, it is the pace and dribbling skill of BVB's attack. Ousmane Dembélé seems to be the biggest threat right now, as he has the ability to create chances out of nothing by skipping past players as if they were training cones! With Pierre-Emerick Aubameyang and Marco Reus, there is an attack that will create chances against any shape of defence, although finishing off those chances has been a problem in recent weeks.
The biggest weakness of Dortmund seems to be their fitness levels. Too often, the team looks fatigued after 70 minutes or so and let games they've dominated out of their hands. Overall, the weak spot is the defence, as they have leaked 21 goals in 19 league games already. Neither Marc Bartra nor Matthias Ginter have looked too convincing at centre-back next to Sokratis Papastathopoulos, and the often lacklustre backtracking hasn't helped to take the pressure off the backline. One could say that the transitioning into a defensive shape after losing the ball is a tad too slow.
Tuchel and the Dortmund board are alleged to have clashed over the signing of Alexander Isak, who was also a rumoured target for Benfica. Is there any truth to these reports?
Not really. Dortmund scouted the player, there was a brief opening of realizing the transfer, and Tuchel was only asked for his opinion at the very last second. Typically for Germany, the Sporting Director and his scouting staff are planning the squad. Tuchel wasn't too much involved in the transfer, but BVB wouldn't have bought him if he had vetoed the transfer.
Benfica intend to introduce safe standing at the Estádio da Luz next season. Presumably you would support that, given its success in Germany?
Absolutely! It will only enhance the atmosphere and thus the match experience. Do you guys also have beer over there? [DP: I'm afraid not. Alcohol-free beer only.]
Raphaël Guerreiro is a Portuguese hero and a self-confessed Benfica fan. How quickly has he settled in the Bundesliga? Is it true he has been used as a central midfielder?
Sadly, Guerreiro has battled with muscular problems that dragged on from the Euros and seemingly only got worse with every international break. He has missed almost half the season thus far. However, he easily looked like BVB's best summer purchase, showing his high footballing IQ and the technique to match it.
He is an absolute gem, and although Dortmund had planned to utilise him as a left-back, Tuchel quickly realised that he would be far more valuable in central midfield. Without buying a replacement for Ilkay Gündogan, the Ruhr Side will be happy that at least the Portuguese international can provide some creativity on the pitch.
Guerreiro has looked a little slow in 2017, as it took him quite a while to recover from injury, and he will probably need a few more games to come into form.
[DP: This is scary, considering he has 4 goals and 6 assists to his name already this season. Imagine if he was fully fit!]
Like Benfica, Dortmund have put their faith in a group of talented youngsters. Who are the pick of the bunch?
Right now, Ousmane Dembélé [pictured below] is carrying the team with his individual class. He is probably the best 19-year-old out there, dazzling Dortmund fans with fast-paced dribbles and quite savvy passing. Obviously, he still has a lot to learn, but already his decision making has improved since arriving at the Westfalenstadion from Ligue 1. Not far off Dembélé is Christian Pulisic, who is also extremely fast, skilful and mature beyond his years when it comes to positional awareness. He has started numerous times over André Schürrle, Dortmund's most expensive summer signing at €30 million.
Dortmund have been struggling in the Bundesliga relative to the Champions League, particularly away from home. Why is this?
A lack of defensive cohesiveness, combined with early fatigue and a laughable amount of individual lapses. The 2-1 loss to SV Darmstadt at the weekend epitomised Dortmund's biggest problem: they don't take inferior opponents seriously, which results in abject performances. When the last-placed team of the Bundesliga carves out a deserved win against a side that plays Champions League football, you know that something is rotten. The players, however, will probably be more motivated on Tuesday night.
Did Dortmund rest any players at the weekend against Darmstadt?
Marc Bartra and Ousmane Dembélé were both rested, as they started on the bench. Dembélé arrived in Darmstadt late after attending his grandfather's funeral in France, but got to play for 30 minutes.
Do Dortmund have any injuries or suspensions ahead of the game with Benfica?
Nuri Şahin, Sebastian Rode and Sven Bender are injured and out of the game, but only the latter would have a chance to be a regular starter, and his defensive resoluteness is a big miss. Lukasz Piszczek and Marcel Schmelzer are also doubtful.
How are Dortmund likely to lineup against Benfica this week?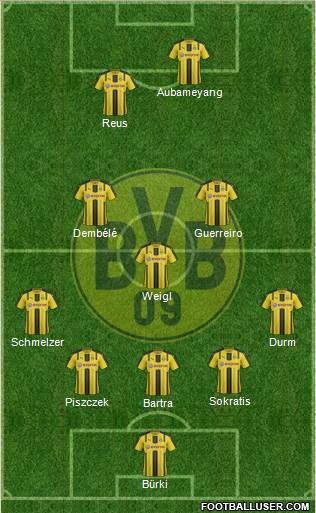 Finally, time for a score prediction for Tuesday night!
Errr, 1-1?